From analysis to action
We believe that through sports we can make a real difference in people's lives.
The Sasakawa Sports Foundation (SSF) strives to inspire action on local and global scales through our study of sports data, policies, and trends, increasing diversity and opportunity for all. Our analysis clarifies current conditions around sports, and we use this information to find ways to execute change with community leaders and government policymakers. By developing and running concrete initiatives in collaboration with regional communities based on the insights we have cultivated, we hope to ignite the spark for people to get healthy and stay healthy.
The Challenges We Face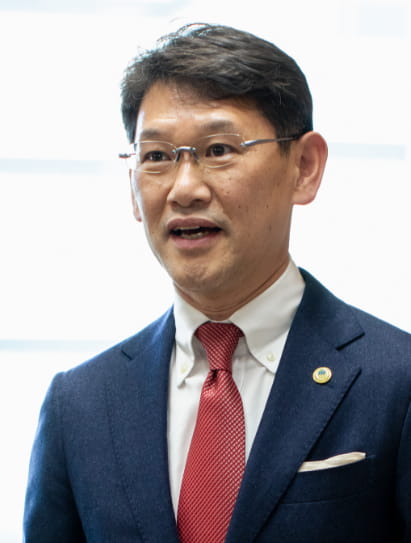 Kazutoshi Watanabe
President
Sasakawa Sports Foundation
"Japanese society is aging at an unprecedented rate, and this trend is spreading globally. At the same time, as nuclear families and one-person households grow in number, community interactions are dwindling. SSF aims to create a community-minded, healthy, and long-lived society. Through sports, we hope to not only contribute to the maintenance and promotion of individual mental and physical health, but also to provide opportunities for interpersonal bonding and foster a spirit of mutual aid."
Our Commitment
We are committed to continuously assessing our progress and building on our findings from our studies to build improvements into every sport-driven endeavor we undertake. We respect the uniqueness of every individual and will continue to create inclusive sports participation opportunities for the public good.
Our Expertise in Action
The SSF promotes Sport for Everyone in society, striving to create a world where all citizens can find happiness by enjoying sports in a way that fits their individual lifestyles. We are developing a variety of projects to achieve this. As a sports think tank, we carry out a range of data-gathering and research on sports promotion.
We conduct research and survey activities both within Japan and globally with several core themes:
Improving Policy
Addressing Children's Needs
Strengthening Governance
Supporting Volunteers
Promoting Disability Sports
Comparing Policies
Building Communities
Research units led by the SSF research and survey team also include other researchers and outside experts. The data gathered and analyzed through our research and surveys are used by the national government and local municipalities for policy-making as well as by sports-promotion organizations for designing projects.
Change Is Possible
We have seen time and again, how sports improve human relations and build strong social bonds. Playing sports has the power to lift people out of poverty, free themselves from perceived limitations, organize communities, and build strong social bridges. It creates a shared language that transcends gender, race, ability, and age and shows us we have more in common than divides us.
Sports has the power to change.
The SSF is dedicated to using the power of sports to build a healthy and vibrant society. We research sports-related activities and present our findings in statistical and descriptive formats. We also work closely with national and local governments and other stakeholders to develop programs that deepen enjoyment of sports throughout communities.
Research
We collect and analyze data from sports trends and policies from Japan and throughout the world.
Engagement
We put our analysis and research into practice with local governments and sports organizations to increase physical activity and improve sports-related environments and policies.
Sport for Everyone
Driving Social Innovation Through Sports
The SSF wants to create a world where all citizens enjoy sports as a part of their daily active lives. We believe in a world where sports becomes a platform to solve the most challenging social problems and create an inclusive society where diversity is valued. Together with active participants worldwide, we hope to spread health, longevity, and happiness to everyone.
In this energetic, engaged world of sports, the quality of life of people from all ages, nationalities, genders, and ability levels would improve. We make sports more accessible, ensuring participation is possible for anyone, anytime, and anywhere. Through our public-interest initiatives, we build better living environments through sports and form a society where everyone can experience happiness.
As we strive to help resolve social issues through our activities, we hope that our efforts will also serve as a source of ideas and inspiration for other countries and regions around the world.
If international communication and collaboration leads to exchange of personnel and joint research, even more people will be able to enjoy the power of sports.
Let's take action together to make this world a reality.